SINK [WRITER]
An exploded-out kitchen sink drama about the weather, the end of the world, and the things that feel like it.
VENUES INCLUDE:
HOME Manchester (extract reading)
TEAM:
Writer
Clodagh Chapman
Supporters:
Box of Tricks, Rope Ladder Fiction, The Board
Developed on Box of Tricks' Pen Pals and BoxFresh schemes.
---
UNCOOL [WRITER & DIRECTOR]
1909. Rural Lancashire. Patently awkward amateur entomologist Martha is on a mission to get in with the cool kids: the Women's Suffrage Society North West Organising Committee.
Concept images include Criminal$ (dir. Frank Welch) and Grassland Drifters (Justine Kurland).

TEAM:
Writer
Clodagh Chapman
Producer:
Daljinder Johal
Production Company:
Little Stitch Productions
Developed on BFI NETWORK Film Hub North 2022 Script Lab.
---
GIRLS' CLUB! [MAKER]
Welcome to GIRLS' CLUB! We're going to stay up all night and talk about BOYS and RAGE and DIGITISATION OF YOUTH SUBJECTIVITIES.
(This was a weird live video interactive Twine thing. It was sort of about Nyan Cat, agency, and being a teenage girl on the internet.)
VENUES INCLUDE:
The Holbeck
REVIEWS:
"Ingenious and entertaining" - Audience feedback
"Nothing like anything I'd seen before" - Audience feedback
TEAM:
Writer & Director
Clodagh Chapman
LIVE Producer
Gabi Spiro
Mentors
Louise Mothersole (Sh!t Theatre) & Rosie Gray (Barrel Organ)
Commissioned by Barrel Organ for LIVE HOLBECK.
---
ART! REAL ART! [CO-MAKER]
ART! REAL ART! is a Very Serious Art Project where Real Actual Artists James Varney and Clodagh Chapman will make Real Art!
In the past, we have been accused of not making real art. Specifically - to quote various anonymous respondents - "it was meaningless", "I didn't really understand what was going on", and "no".
(APPARENTLY KARAOKE ISN'T ART BUT OPERA IS SO HOW DO WE LEARN HOW TO DO OPERA BUT IDEALLY VERY QUICKLY.)
A show about art, artists, and failure.
SUPPORTED BY:
HOME Manchester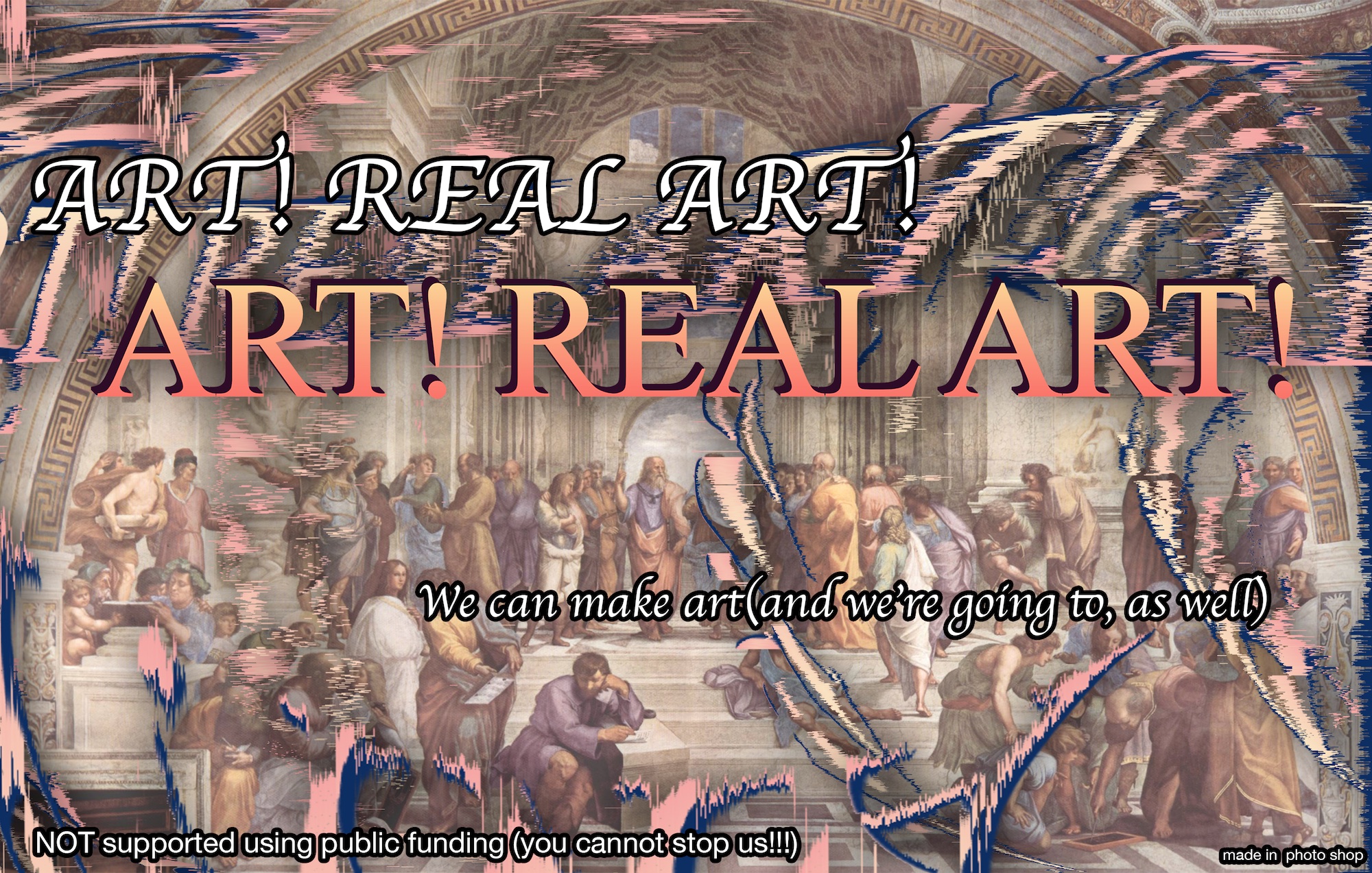 TEAM:
Co-Makers:
Clodagh Chapman and James Varney, as
FAboutFindOut